This is how to add your event to the calendar.
Anyone can add FREE or NON-PROFIT events to the calendar - please do not add purely commercial events. Things like classes and training open for public registration exist in a kind of gray area, it's probably okay, but be reasonable.
All the links below go directly to the pages you need, but I will also tell you how to use the calendar without going to this page first. You can do it either way, whichever you prefer.
If you have any problems with entering your calendar event, contact the Voices webmaster by emailing voices@voiesweb.org
1. You need to have a User Account, with a username and password, with the Voices website. You may already have one, and be logged in. If so, jump to step two.
If you do not have a Voices web account, you need to register an new account with the Voices website. This is fairly easy and takes about 60 seconds.
Click this link and fill out the form. Create your new account.
Use your new account to Login.
2. Now, look for the navigation block in the upper left corner - every page has one.
Find the link that says Add your voice and create content. (Only visible when logged in.)
Click that and a page appears that offers you options.
You can create a blog, a forum entry, and you can create a Calendar Event.
Since you want to post a calendar entry, chose Calendar Event.
The Calendar Entry page will appear. It looks like this: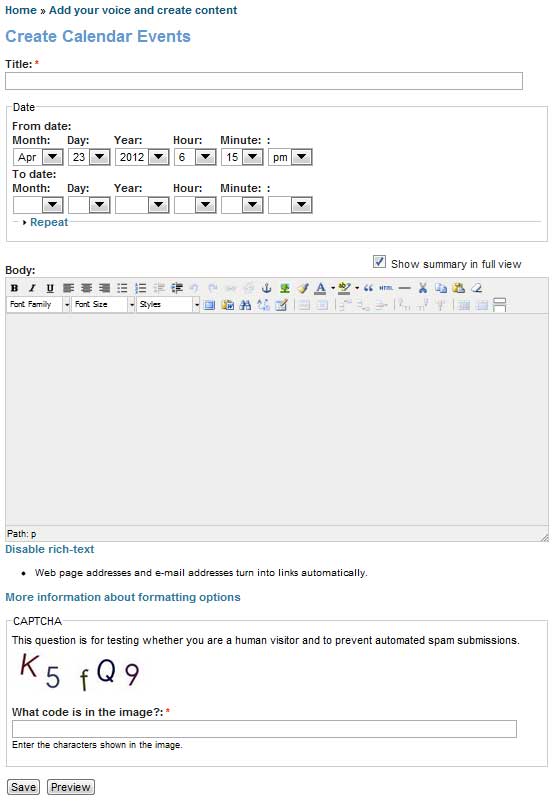 This is a fairly easy form - you need to give the event a descriptive title, like "Free Antique Pottery Show at the Antique House May 7th".
Select the date in the drop down dat