Art Exhibition: Foxdale Community Art Gallery, State College, Pennsylvania
January 13 – March 12, 2013 - Opening reception Sunday January 13, 2013, 3.30-5 pm
Daily 9 – 5; Sunday noon – 5 pm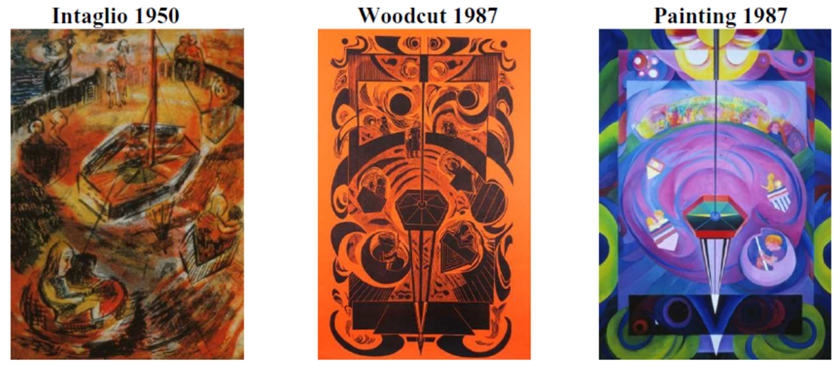 The painter and printmaker Berta Golahny (Detroit 1925-Newton 2005) created images
in response to the human condition, and expressive of tragedy, joy, and wonder. This selection
of paintings and prints includes works from 1950 to 1995. Many of the works belong to series,
often developed over decades: Children at the Fair; Landscape of Man; Psalms; Genesis; and
Cosmos. Consistently these works investigate the place of humanity in the earthly and cosmic
worlds.
Born in Detroit, Golahny attended the prestigious Cass Technical High School, a
training ground for artists as well as engineers. She studied at the Art Students League in New
York City, The Art Institute of Chicago (B.F.A.) and the University of Iowa (M.F.A.). She
received many awards, including fellowships from the Tiffany Foundation and the Massachusetts
Council on the Arts, and exhibited nationally and internationally. After moving to the Boston
suburb of Newton, she taught at the Cambridge Center for Adult Education, 1959-2001, where
her classes were filled by dedicated students who considered painting their avocation and
attended year after year.
Golahny's early work approaches abstract expressionism in its heavy application of
paint in loose strokes. Her later work, after 1968, differs radically, as she undertook experiments
in two media that involved sharply delineated forms and colorful palette. She took this direction