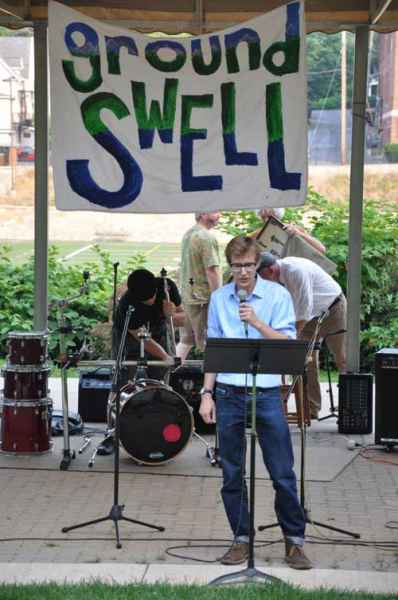 After a meeting of the Centre County Elections Board this morning, The State College Community Environmental Bill of Rights and Natural Gas Drilling Ban is now officially on the ballot for this November 8th. We are the first people to successfully put a charter amendment on the ballot in State College since it became a Home-Rule community forty years ago. And our borough, along with three other communities, will now host the first popular vote on Environmental Rights in the world. There is no doubt, history is being made in State College.
If passed, a Community Environmental Bill of Rights and Natural Gas Drilling Ban will mark a dramatic turning point in the operations, governance, scope and sovereignty of the Borough of State College. By recognizing the environment as something other than just property, Environmental Rights alter the legal perception of our environment in a way that has remained unchanged in the history of Western Civilization, until now. Local Rights, like the right to Local Self-Government, alter the role of a local government in America from a tertiary role behind the state, to a primary democratic institution, capable of empowering its citizens to make decisions about what can and cannot happen within the boundaries of their community. Finally, we will ban the commercial extraction of Natural Gas within the borough; a preemptive and proactive measure, designed to ensure urban drilling cannot occur in the Utica Shale under State College and meant as a powerful demonstration of the kind of decisions our community is now capable of making.
Many hurdles lie ahead. A large campaign to educate the people of State College about Community Environmental Rights and the Natural Gas Drilling Ban must now begin. A get-out-the vote effort needs to be held from door to door, across neighborhoods and on campus. An all-out effort by the environmental community, political leadership and average citizens of State College must now take place.
A press conference is scheduled for Tuesday August 30th at 11am in the Schlow Library Community Room, or in front of the building weather permitting. Mayor Elizabeth Goreham, Borough Council Members and Groundswell Leadership will be in attendance.
Please contact Braden Crooks at 703.863.1003 for interviews and more information.
A photo from our kick-off event this past July is attached.
much thanks,