by Bill Eichman, Voices IT Volunteer, former President and Board Member, and long-time Voices supporter, donor, and advocate.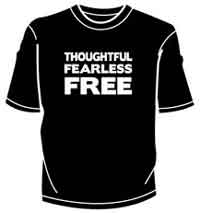 Voices has been undergoing a transformational death and rebirth. We have been seeking a new form, one that has evolved to suit the needs of our rapidly changing 21st century lives, and our expanded and demanding community lifestyles. And we'd love to tell you that we have it all figured out, and that we are on time and on on budget. And give you the date of our grand reopening and gala debut.

Ah, no. Nope. Nah. Sorry. No big debut, yet. We are still working on things. (Hey, if it was easy, everybody would do it.)
However we are all agreed on this; because everyone we talk to tells us this key thing over and over. This town needs an independent Free Press, and a strong and unabashedly liberal community voice.

And there are people here who love the art and craft of journalism, who believe in the Voices mission, and who see the importance and power and potential of the multi-generational community of remarkable people found here in the Nittany and Penns Valleys.

So, there is still the definite intent to have a Voices rebirth, and to emerge from our retreat into transformational sleep with a New Voices, one that does still publish a smaller paper version, but that includes with that paper publication a stronger emphasis on online community and journalism and new media content, and on an increased amount of social and face-to-face events, a stronger physical community of shared place and time.

This is where you come in; because the Voices mission is about you. Voices serves you, and without you Voices has no northern star, no map, no Captain. So, as we start to return from our hermitage and struggle to re-vision Voices from newspaper to new media, we think it's time to re-connect with you, the Voices People, our readers, our authors and creators, our future staff and leaders, our supporters and donors, and our tribe.